Columbian Chemicals Plant
Previous | Next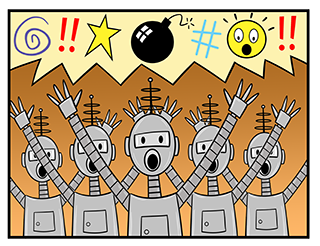 On the morning of September 11, 2014, Twitter users woke up to frantic reports of an explosion in Centerville, Louisiana. Pictures and videos of the explosion of the Columbian Chemicals plant were circulated and #ColumbianChemicals was soon trending on Twitter. Jon Merritt tweeted "A powerful explosion heard from miles away happened at a chemical plant in Centerville, Louisiana #ColumbianChemicals."
Because the explosion occurred on the anniversary of 9/11, many users were concerned that this was another terrorist attack. Some users reached out to their senators asking if terrorists were involved in this attack. Subsequent Twitter posts implied that ISIS had taken responsibility for the explosion.
CNN seemingly reported on the event according to a screenshot of their homepage that was posted on Twitter. The screenshot displayed headlines like "Plant Explosion in Centerville Caused Panic" and "Obama: 'We Will Destroy and Ultimately Degrade Isis,'" which suggested that the US was going to respond to ISIS attack. One user posted a video of an Arabic news clip that appeared to show masked members of ISIS taking credit for the explosion. Public fear grew as this news spread.
But, the explosion never actually happened. The supposed crisis was an elaborate hoax propagated by programmers and multimedia producers. Content producers created the pictures and videos of the fictitious smoke and fire that blazed through Centerville. Others had doctored a screenshot of the CNN home screen to give viewers the illusion that a credible news source was reporting on it. The video clip of ISIS taking responsibility for the explosion was made specifically for this hoax.
Programmers also launched an army of bots that retweeted posts containing the #ColumbianChemicals hashtag. Hoping to attract the attention of influential Twitter users, these bots tweeted about the explosion for hours. The propagandists also cloned websites of local Louisiana news outlets to display news about the fake explosion. As a final touch, they sent local residents phony text message alerts which announced "toxic fumes, hazard warning" and warned people to "take shelter [and] check local media."
The following year, the investigative journalist Adrian Chen traced this disinformation campaign to the Internet Research Agency (IRA) in St. Petersburg, Russia.1 Known for its close links to Russian President Vladimir Putin, the IRA hired more than 1,000 employees that worked 12-hour shifts posting and commenting on social media platforms, news sites, and tourist sites.2
On February 16, 2018, the Department of Justice indicted 13 Russians and the Internet Research Agency for waging "information war against the United States of America." According to the 37-page indictment, two of the Russian propagandists (Aleksandra Yuryevna Krylova and Anna Vladislavovna Bogacheva) had visited Louisiana in June 2014, three months before the Columbia Chemicals Plant hoax.
This large-scale, carefully coordinated hoax demonstrated that malicious individuals could disseminate disinformation quickly and efficiently across multiple media platforms, risking mass panic in the United States or any other targeted location. Noting that these information attacks were intended to "promote discord in the United States and undermine public confidence in democracy," Deputy Attorney General Rod Rosenstein reminded us that "people are not always who they appear to be on the Internet."
References
1 Adrian Chen (2015, June 2) "The Agency," The New York Times.
2 As an example of the activities of the Internet Research Agency, consider the details shared by an ex-IRA employee named Marat Burkhard. His task was to flood various Russian city or village's websites with comments favorable to the Putin regime. When asked about the job, Burkhard said, "It's a real factory… The quota is 135 comments per 12-hour shift." IRA activities are described in more detail on the sockpuppet page of this site. Burkard's interview can be located at: Dmitry Volcheck and Daisy Sindelar (2015, March 25) "One professional troll tells all," Radio Free Europe Radio Liberty.
---
---