ISIS Botnet
Previous | Next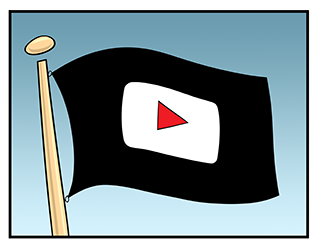 On the 5th of February, 2016, Twitter deleted 125,000 accounts associated with the terrorist organization, ISIS.1
The Islamic State in Iraq and Syria (ISIS) was one of the first extremist groups to use social media to recruit followers, share videos, and claim responsibility for attacks. In 2014, ISIS began disseminating online propaganda, using sites like Twitter and Facebook to grow a large social network, chat apps like Whatsapp or Kik for encrypted personal communications and Youtube for sharing infamous ISIS beheading videos.
ISIS also leveraged Twitter as a way of taking responsibility for successful terrorist attacks. After tweeting about the attack, thousands of fans would cheer them on and retweet these messages.2 However, not all of these cheering fans were real people. ISIS deployed an army of bots to create false consensus online.
Mainly used as a way to make their messages appear to be more popular, ISIS bots averaged around 1,000 followers each.3 According to a social network analyst who specializes in the proliferation of disinformation, the ISIS bots' rampant content production and visibility across platforms "made it highly like that mainstream media would see their content and amplify it even as they condemned it."4
Media coverage was negative, but it effectively introduced ISIS to a mainstream audience. By producing massive amounts of content and using bots to retweet and favorite messages, ISIS successfully achieved name recognition.
ISIS propaganda is barbaric, hateful and stomach turning; it is also remarkably polished. The terrorist group's communication strategists are clearly well trained in principles of social psychology, graphic design, and video editing. It is difficult to deny that these advanced propaganda efforts have been successful.
In December 2017, two men were arrested for attempting to commit a terrorist attack (suicide bombing) at the Port Authority Bus Terminal in New York City. After the explosion, one of the accused attackers stated that he "did it for the Islamic state," noting that he was inspired by ISIS videos, magazines, and Internet posts.5
What can be done? Twitter has tried to eliminate extremist accounts, but acknowledges that there is no "magic-algorithm" for detecting terrorist accounts.6 Even after military defeat in Raqqa, ISIS continues to be active online.
In the words of one foreign correspondent, "The self-proclaimed caliphate has been reduced to a handful of villages in the Syrian desert, but the "virtual caliphate" fights on, a diminished but still formidable presence focused on rallying the group's followers in the face of crushing military defeats, according to US officials and independent analysts."7
References
1 Twitter Inc. (2016, February 5) "Combating violent extremism," Twitter Blog.
2 Renee Diresta (2018, March 8) "How ISIS and Russia won friends and manufactured crowds," Wired.
3 J. M. Berger and Jonathon Morgan (2015) "The ISIS Twitter census: Defining and describing the population of ISIS supporters on Twitter," The Brookings Project on U.S. Relations with the Islamic World. Analysis Paper, 2. March.
4 Renee Diresta (2018, March 8) "How ISIS and Russia won friends and manufactured crowds," Wired.
5 Al Baker and Benjamin Weiser (2017, December 12) "I did it for the Islamic state,' bombing suspect told investigators," The New York Times.
6 Twitter Inc. (2016, February 5) "Combating violent extremism," Twitter Blog.
7 Joby Warrick (2018, January 22) "'We are in your home': After losses, ISIS steps up campaign to inspire attacks," Washington Post.
---
---